We have all seen breathtaking beaches in movies and magazines and have wondered, do these places actually exist? We have tracked down three of the most beautiful beaches that actually do exist and you can visit them any time you like.
Tahiti
Tahiti is the highest and largest island in French Polynesia lying close to Moorea Island. It is located 4,400 kilometres (2,376 nautical miles) south of Hawaii, 7,900 km (4,266 nmi) from Chile, and 5,700 km (3,078 nmi) from Australia.
Many who visit Tahiti claim it is the most beautiful place they have ever seen and certainly based on the amount of traffic the island gets each year, this feeling continues to be strong.
Why do people love Tahiti? The water in this tropical island paradise is a crystal clear bright blue and just made for picture taking. The temperature is a perfect 28°C throughout the year and the island contains everything one needs to relax and forget about your worries.
Tahiti has become a sought after honeymoon and anniversary destination, with lovers traveling from around the globe to set and renew their vows on the island. They also come for the palm trees, scuba and snorkeling activities and French infused cooking.
But the main reason people come is for the beaches. Tahiti's white and black sand sun-kissed beaches are unmatched anywhere. Yes they have beaches in two different colors. To see them visits La Plage de Maui Taharuu or Le Trou de Souffleur. 
Krabi, Thailand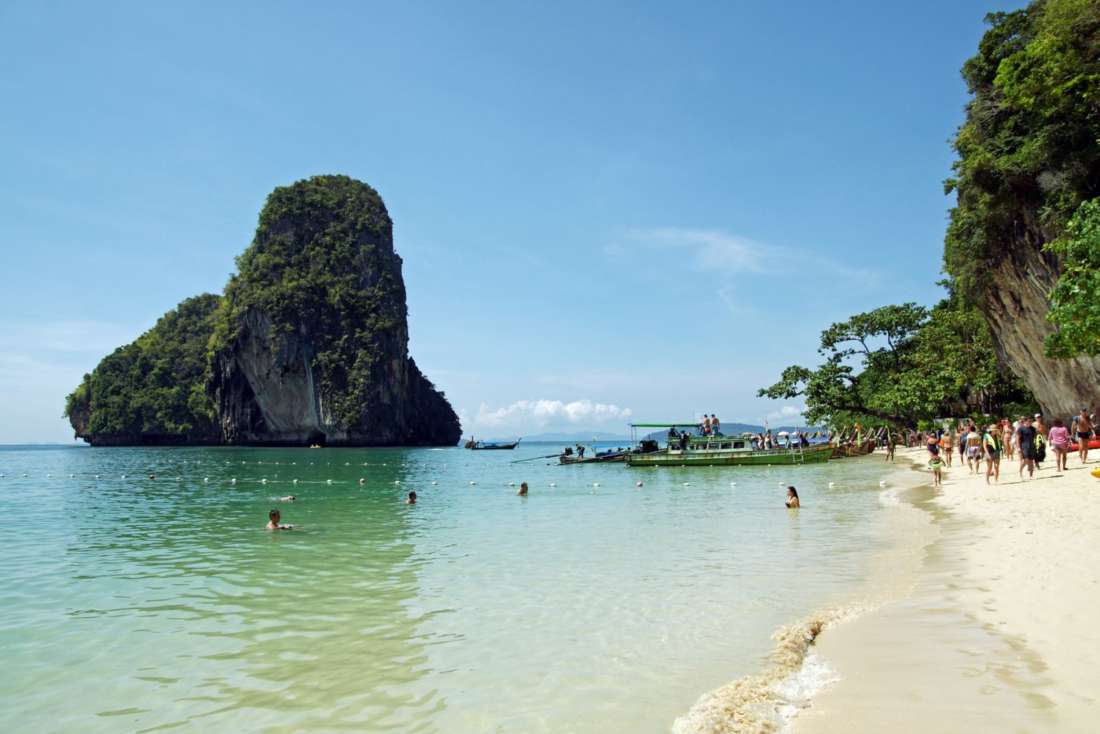 Koh Krabi is an island in Thailand that is widely known as the third most popular island destination after Phuket and Samui, But for many who come here, they believe that Krabi is by far the most beautiful of the three.
Krabi has built a reputation as a mid-level priced island that is also friendly to backpackers who want the height of beauty but cannot afford the expensive private villas Thailand is known for these days.  Unlike Phuket and Samui, there is no real busy area of the island. There are several small towns that break up the hotels and villas on the island, but this is the place you come to relax and forget about it all.
Krabi excels at beautiful beaches that are accessible to anyone who comes to visit. These best ones are: Tham Phra Nang Beach, Railay Beach and Ao Nang Centara Beach. The last beach you must enter through the Krabi Centara Hotel.
Lopes Mendes Beach, Brazil
Most people know Brazil's beautiful Copacobana Beach with its throngs of thongs and vendors hawking everything you want to buy and many things you have no interest in, but Copacobana is not even in the top handful of beautiful Brazilian beaches. One that can definitely fight for the crown is located on Brazil's Ilha Grande (big Island), called Lopes Mendes Beach. It is a stunning white sand beach lined with almond and palm trees and crystal blue waters stretching for almost two miles. And those two miles might be the best you can find in all of South America particularly if you are a lover.
Perhaps the best part of this beach is that it is nearly completely untouched without a hotel, resort or even building anywhere to be seen. So for the ultimate day of relaxation, all you need to bring is a good book, suntan lotion, and snacks and you might have found the perfect beach.
Paradise does exist on Earth and now you know where to find it!